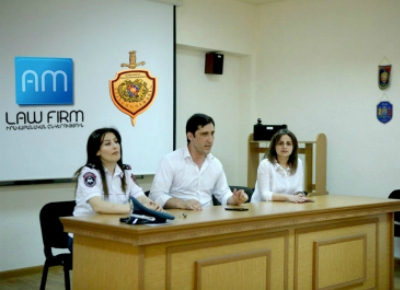 1 July, 2019
The lawyers of "AM" Law Firm Levon Sahakyan and Paytsar Kocharyan were welcomed by the Police Academy of the Republic of Armenia to give a lecture for students on "Legal regulation of civil representation in court".
The lawyers presented the main regulations and legal loopholes in the field, the legal problems raised during the practice of law, effective solutions of them, the proper implementation of the protection of rights of clients. They talked about the basic principles that lawyers use to choose tactics in the civil domain.
After the presentation of the scientific material, the participants of the session asked the speakers questions who provided the most comprehensive answers, organized an exchange of ideas and a discussion on the results of the event.
The students were interested to know if there are decisions made by judges during the practical activities of advocates that may be a precedent for other similar relationships. Advocate Levon Sahakyan has presented specific cases in which court decisions are considered as precedents and apply to other cases where similar factual circumstances exist.
The advocates also presented the types and sources of judicial representation, the specificities and importance of client-advocate, advocate-court and advocate-advocate relationships, providing specific examples which show the internal and external aspects of those relationships.