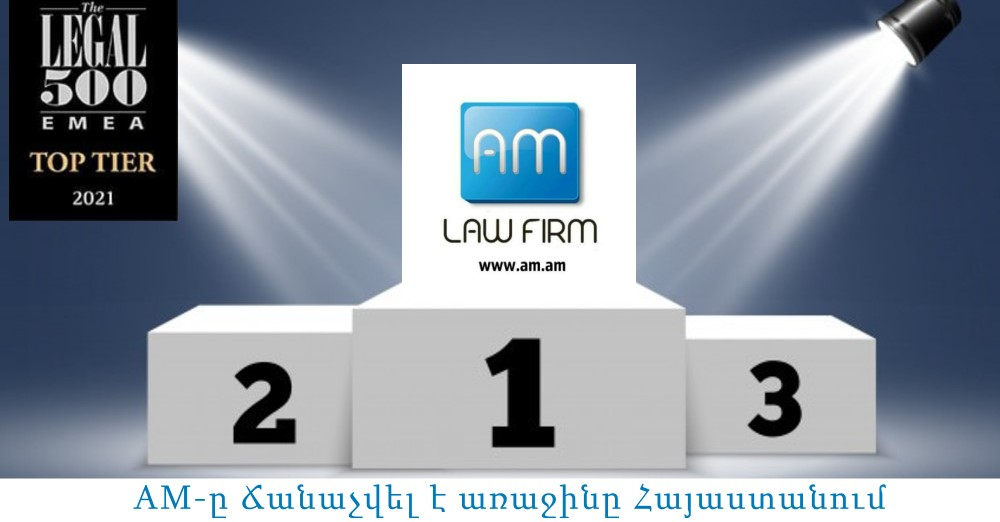 19 April, 2021
"AM" Law Firm was recognized a leading law firm in Armenia providing legal services according to the "The Legal 500" EMEA (Europe, Middle East & Africa) international reputable rating retaining its position in Tier 1 in the ranking list.
"The Legal 500", which is an international rating system, studies each year the work of law firms acting in 150 countries.
In the justification of the international rating, it was emphasized that "AM" has significant experience in court cases related to all areas of law.
"AM" provides legal services related to the issues of wide scope of law, tax and customs law, issues of debt collection, registration of the trademark, property and labor disputes, legal issues abroad, etc.
"AM" Law Firm is managed by advocate Grigor Minasyan. Advocate Vanik Margaryan, who has an experience in tax field and in a number of other fields, is one of the team leaders in "AM", as well as Davit Hunanyan, who is specialized in civil and criminal disputable court cases.
When monitoring "The Legal 500" gives an importance to the team work of the companies providing legal services. It should be noted that a number of companies make a rating on a paid basis, while "The Legal 500" rates law firms solely on the basis of the company's reputation.
"AM" team thanks its clients and partners for positive evaluation of the work and for trust in the company.