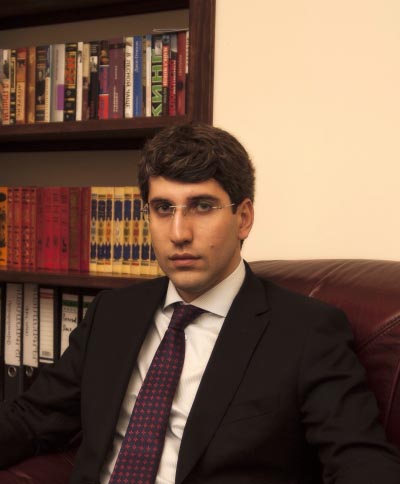 24 June, 2014
www.aravot.am
Today a decision on exemption of local state duties of parking for the disabled was made during the hearing of Elders of Yerevan city. The author of the draft of the decision Grigor Minasyan suggested providing for separate sections in all parking spaces for the parking of vehicles of the disabled, whilst prohibiting the parking of other vehicles in such spaces.
After the hearing Grigor Minasyan answered to the questions of Aravot.
- Mr. Minasyan, shortly before the Elders of Yerevan city accepted the decision authored by you, pursuant to which red lined parking spaces in Yerevan become free for the disabled. How shall this decision be executed? Wouldn't it be technically complicated?
- Good jobs are usually hard to be realized, and this one is not an exception. Thanks to our current mayor, the issue concerning persons with long-time disabilities received a very civilized and modern solution. Whereas the adjusting of parking spaces to this decision is indeed a matter of time and techniques.
- Does that decision have a retrospective force? I mean, if there are disabled people who have already been fined for parking in red lines and for non-payment, can they get freed of those penalties?
- No, such decision cannot have a retrospective force.
- What do you think? Wouldn't it be right to provide also free parking spaces for universal use for those who cannot pay? May be those are the guests of city from marzes or socially insecure people. Otherwise it's impossible to find unrestricted or not lined parking spaces in Yerevan now, particularly in the central part.
- You suggest a very good idea, but today there are no precise calculations to realize this good idea as well. I believe this ideas, as well as other similar ideas will be the subject of discussion for our fraction and the Elders of Yerevan city, just like creating special parking spaces for taxies, tourist buses, minibuses and bycicles or service parking spaces.
- «Parking city» company dealing with parking places, has made an announcement on selling the 100% of shares. Wouldn't it in any way affect today's decision of the mayor's office? And, generally, what do you think, is it a serious announcement or the company simply makes a "demarche"?
- I do not look for hidden contexts in the actions of others and I do not even intend to comment this or that action of a private company. I believe those who are interested in investing in a business, will be interested by the announcement of "Parking city". This issue interests me today exceptionally from the prospective of social problems. I am honestly glad that our city made a small but an essential step for such a vulnerable group, as the disabled people are. The development of our city is the main issue for all of us and for me it is also an inspiring obligation. Affordable and civilized Yerevan for everyone is one of the directions of such development.
- The second President of RA during his yesterday's interview addressed also the issue of parking spaces and stated that the money received thereof shall be sent to the community or state budget instead and not to the pocket of private sector. How realistic do you think is that such activities are conducted by the mayor's office without the help of a private sector?
- I think that Taron Margaryan has given a completed and exhaustive answer to this question from the point of view of the mayor's office and Elders of Yerevan city.
Melanya Barseghyan.