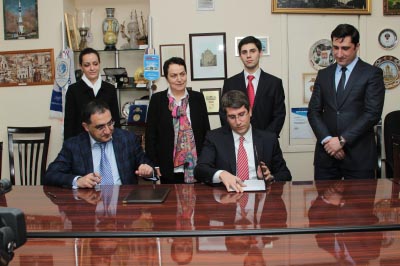 30 November, 2015
Today, the rector of Russian-Armenian (Slavonic) University Armen Darbinyan and the managing partner of <<AM>> law firm Grigor Minasyan have signed a document, by which a cooperation of exclusive type and quality will be held between the leading CHE, preparing lawyers and the leading law firm.
In the scope of the cooperation it is prescribed to hold specialized seminars, round table discussions and other discussions, concerning controversial and topical questions of law every month. Leading specialists of the university and the law firm, students of the CHE, as well as other structures and specialists, related to the sphere will take part in those events.
Among prescribed events there are also treatment and introduction of mechanisms of legal protection of scientific products, created by scientists of the university. Moreover, from now on the students of law faculty of Russian-Armenian (Slavonic) university will gain practical work experience in <<AM>> law firm. The students, who has shown the best results during the internship, will have opportunity to work in the company on payable basis.
The rector of the university, professor Armen Darbinyan mentioned in his speech: <<We are proud with the fact, that the graduates of our university today have a serious weight and reputation in the professional field. It is also our pride and result of our work. I am very glad, that today we have concluded a comprehensive agreement with <<AM>> law firm, which prescribes to implement joint researches in the most topical spheres of law, joint treatment of lacks in the field of law, research of ways of finding solutions, as well as more active attraction of students into hands-on work in professional field. It is a very important issue for us.>>
Doctor of law, director of <<AM>> law firm also considered the conclusion of the memorandum of cooperation as a large acquirement, he added: << In our company and in other establishments the employers give the preference to the graduates of Russian-Armenian (Slavonic) university, because the diploma of this university has become a real symbol of professional quality. A lot of people know also, that Mr. Darbinyan is permanently aimed for the future and competitive with many initiatives, which is proved by this unique and innovative cooperation.>>
The official ceremony of conclusion of the memorandum was attended by the director of institute of law and politics of Russian-Armenian (Slavonic) university Larisa Alaverdyan, the leading attorney of <<AM>> law firm Levon Sahakyan, as well as other persons, presenting the structures.