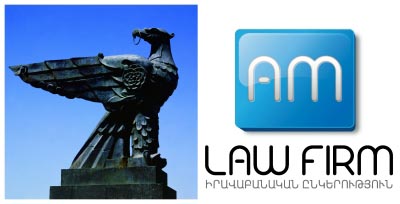 11 February, 2016
Recently, it is astonishing to see the announcement of the social organization "National architect Rafayel Israyelyan" relating the sculpture "Eagle of Zvartnots", which attempts to cast doubt on the co-authorship of Ervand Kochar. In order to make their speech more audible, the authors of the announcement used insults and slanderous statements, relating which "AM" law firm assumed the protection of the rights of the museum and successors of Ervand Kochar.
Upon the moment of its publication (installment), the sculpture "Eagle of Zvartnots" is famous as a work jointly created by Ervand Kochar and Rafayel Israyelyan, which is a well-known fact and is confirmed as by numerous books, articles of printed media, evidences, as by the certificate of the registry of historical and cultural monuments, according to which the architect of the sculpture is Rafayel Israyelyan, and the sculptor is Ervand Kochar (some of the materials are attached to this announcement). According to the articles 7 and 8 of the RA Law "On the Copyright and Neighboring Rights" the co-authorship right of the two artists is set to the sculpture.
The museum, as well as the successors of Ervand Kochar have never represented the "Eagle of Zvartnots" as a work created solely by Ervand Kochar and always mentioned the two authors in good faith. It's worth mentioning that Rafayel Israyelyan and Ervand Kochar as well did not disputed that fact during their lifetime.
Each of us might be proud of the monument "Eagle of Zvartnots", as a result of cooperation of the two greatest artists, while today it is attempted to damage their cultural heritage by using their names.
"AM" law firm will defend the rights, honor and dignity of the museum and the successors of Ervand Kochar and will control such publications not to remain without consequences in the legal field as well.