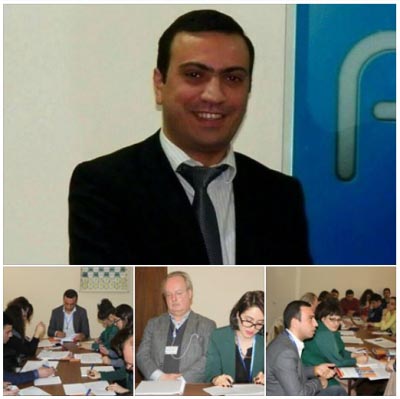 9 March, 2016
The discussion relating the professional expectations awaited from the graduates of higher education institutions took place within the international convention. Davit Hunanyan, who always works with graduate students as a partner of "AM" law firm and due to this work is aware of the arising problems and the skills that are necessary to gain in the higher educational institutions, presented and clarified the requirements submitted to the candidates for being employed within the convention. Particularly the requirements, the graduates of the higher educational institutions must comply with for being employed, were emphasized.
These and other issues relating the problems existing in the RA educational system, the further reforms for their solution, the prospects of the national frameworks of the qualifications of Armenia, educational projects and their results were discussed within the international convention "The problems of implementation of national and sectoral frameworks of qualifications " taken place within TEMPUS "ARMENQA" project.
RA deputy minister of education and science, doctor Karine Harutyunyan, the rector of ASPU named after Kh. Abovyan professor Ruben Mirzakhanyan, the professor of the university of applied sciences of Osnaburk Volker Gehmlikh, the head of the national office of "Erazmus+" project in Armenia Lana Karlova, the chairman of the republican union of employers of Armenia Gagik Makaryan and a number of foreign representatives from the education sector were among the participants of the project.
«ARMENQA» is a triennial national project which is directed to the implementation of national and sectoral qualifications framework. The coordinator of the project is the Linshoping university of Sweden.