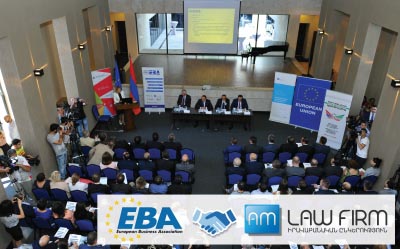 11 July, 2016
Remaining faithful to the principle of supporting and assisting businesses with the foreign investments, "AM" law firm became a board member of European Business Association. Having the support of the European Union delegation, this initiative will essentially raise the investment attraction in Armenia for the companies having European capital. For that purpose our company partners decided to become a member of this Association, after which our company became a board member, as well. Hereinafter we will have the possibility to provide legal assistance both to this organization and its beneficiaries which are registered in the EU countries and want to operate in Armenia. The most important thing for the foreign investors is the support of professional legal companies, which assist them within the whole process of registration and operation.
On 7th of July the business forum "The perspectives, obstacles and possibilities of business in Armenia" organized by the Association took place, within which the existing obstacles and problems for the foreign investors were raised and the solutions for them, including the possibilities to create equal competitive conditions, were suggested.
The creation of the association is a remarkable progress, which will promote to the creation of the safe business environment and to the attraction of new investments.
Let us remind that AM law firm is a partner of Armenian-French and Greek-Armenian Chambers of Commerce, as well.