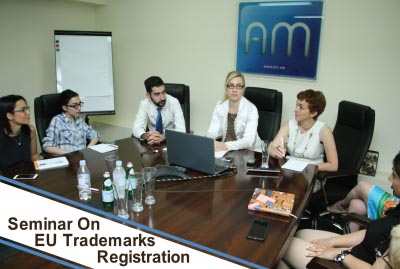 15 July, 2016
A European trademark attorney, Alina Bogdanovicha presented the key features of European Union trademark registration process to the Armenian specialists of the field.
At the seminar that took place at the head office of "AM" Law firm, the leading experts of the field, patent attorneys, and advocates were presented with the recent changes made in the Unified Trademark registration process, which give an opportunity to register a trademark through one application in all EU member countries.
The seminar was implemented by the initiative of "Z. Manukyan and Partners" Patent Bureau, which is one of the most experienced and reputable intellectual property organizations in Armenia and is the reliable partner of AM law firm for many years.