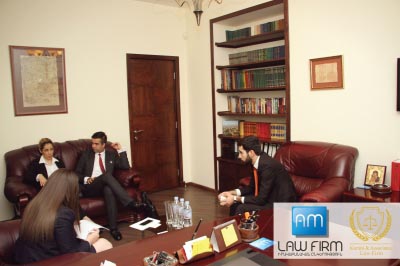 4 August, 2016
Shareholder of "AM" Law Firm Vanik Margaryan and Chief Legal Adviser Narine Sargsyan hosted the representatives from Karimi & Associates Law Firm, one of the leading Iranian law firms; including its Managing Director, Anushirvan Karimi.
In the result of the meeting, the two firms signed a memorandum of understanding, which will give an opportunity to solve our clients' legal issues in the Islamic Republic of Iran by the help of qualified specialists.
Taking into account the current tendencies of the development of business relations between Armenia and Iran and valuing the importance of high-quality legal services in that field; "AM" Law Firm hereinafter may offer its clients legal services necessary to start and manage a business in Iran; as well as, to support the implementation of possible Iranian investments in Armenia.