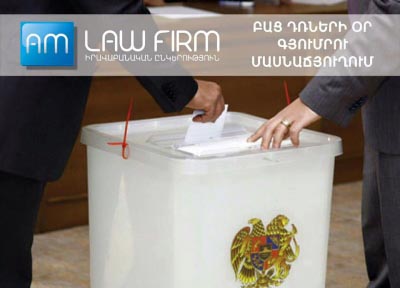 15 August, 2016
Elections of the local self-government bodies will be held on October 2, 2016 in Gyumri. Valuing free realization of rights and quick restoration of violated rights of voters, proxies, observers and mass media representatives in pre-election period, as well as, the day of the elections, on serial day of open doors in Gyumri Branch "AM" Law Firm will provide inhabitants of Gyumri consultation and clarifications regarding the questions, related to the electoral right.
The day of open doors will take place on 18th August, at 10.00 – 18:00PM, in Gyumri, 1/5 G. Nzhdeh Street.
For pre-registration, you may call (0312) 3-03-26.