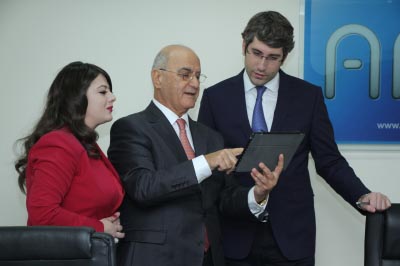 28 December, 2016
Those clients of «AM» Law Firm, who would like to start a business activity in Cyprus, an offshore zone, that offers best tax conditions, from now on will be provided with complex of high-quality legal and accounting services. Well qualified and experienced specialists of «AM» Law Firm and «DADLAW» will consult on advantages and privileges of conducting business in Cyprus prior to the registration of a company. If needed, our teams will organize the process of registration of a new company in Cyprus, as well as will provide further legal and accounting services for the newly regestered company. Hence, expanding the frame and the geography of its services, «AM» Law Firm will start providing legal support also in Cyprus.
The Managing Partner of «AM» Law Firm Mr. Grigor Minasyan and advocate Ms. Narine Sargsyan hosted at the headquarters of the «AM» law firm Mr. Demetrios Demetriades, the founder of the leading law firm in Cyprus, «DADLAW» company. During the meeting, the managers of two law firms discussed the possibility of provision of complex high-quality services to the Armenian investors and Armenian companies, that act in diverse areas and would be interested to investment in Cyprus.
Expanding the services of «AM» Law Firm to Cyprus is yet another step foward, aiming at the development of international business cooperation for the Armenian companies.