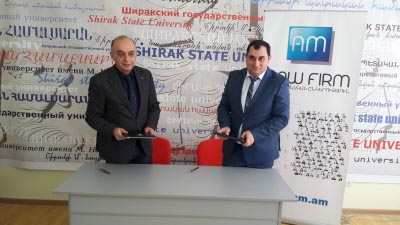 31 January, 2017
From now on the best students of Shirak State University will be trained in «AM» Law Firm Gyumri office. Future lawyers will gain practical knowledge and skills, as well as clarification of questions, requiring specific specialization.
Implementation of the new project initiated by the law firm and the university provides also realization of mutually interesting legal and educational events, organization of scientific conferences, seminars, consultations.
Thus, insuring continuity of successful cooperation with leading universities and other educational institutions «AM» Law Firm initiates another project, which this time will be implemented through potential of Gyumri branch of our firm insuring new opportunities of acquisition of professional experience for students of Shirak State University.