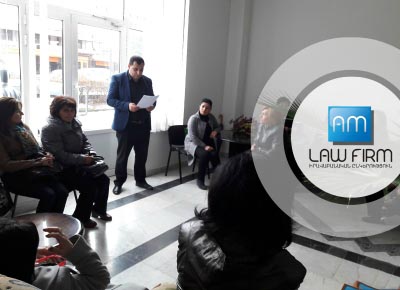 21 March, 2017
About thirty teachers of "The Gyumri School of Culture" state non commercial organization (SNCO) had not been paid their monthly salaries for the December 2014. In response to their claim to pay their salaries the administration of the school had assured them that the salaries would be transferred to their bank accounts, however it had not happened. In December 2015 "The Gyumri School of Culture" has been merged to the Shirak State University according to the government decree. After that merger the teachers have appealed to the head of the newly merged university with the request to pay their salaries, however the respond was that the salaries had been previously transferred to the School in due time, thus the University has had no obligations to pay their salaries.
In November 2016 «AM» Law Firm took the case of the teachers and lodged an application before the Shirak District Court of First Instance. It was argued in the application that the Shirak State Univversity has been the legal successor of "The Gyumri School of Culture" SNCO, according to the RA Government decree N 1418-Ն, and thus he has had the obligation to pay the teachers' salaries.
Immediately after the very first court hearing the defendant expressed willingness to negotiate and enter into settlement agreement. By the date of the second hearing "The Gyumri School of Culture" SNCO has performed its obligations towards all the teachers by recovering the unpaid salaries, as well as the penalty and the interests for each day of the payment delay.