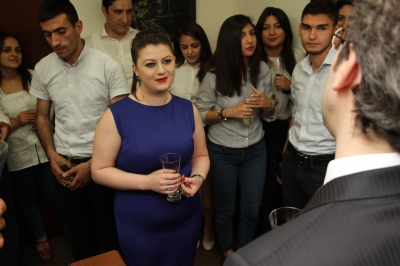 26 June, 2017
Agreement of acquisition of a status of partner was signed between Narine Sargsyan, member of RA Chamber of Advocates and «AM» Law Firm on 23th of June, according to which advocate Narine Sargsyan became a partner of «AM» Law Firm. The official ceremony of the signature of the agreement took place in the headquarter of «AM» Law Firm.
Still in 2012, Narine Sargsyan, a graduate of the French University in Armenia, a beginner lawyer joined «AM» Law Firm as a junior lawyer. Due to her diligence, professional and human high qualities, as well as her commitment to the company, Narine Sargsyan could quickly rise into the official rank provided by the company's charter and finally become a partner of leading law firm of Armenia.
Advocate Narine Sargsyan is fluent in French, English, Russian and Armenian. She is specialized in International business, labor and civil law and has a solid experience in provision of services to local and foreign companies, as well as in solving various legal issues of individuals.