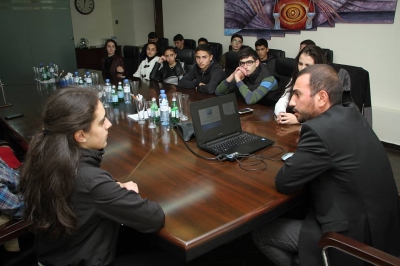 3 November, 2017
On 1st of November, «AM» Law Firm hosted the students of 10th grade of ″Heratsi″ high school. During the organized reception, David Hunanyan, the company's chief legal advisor, shareholder presented the students' peculiarities of the lawyer's profession.
One of the goals of the event was to present the peculiarities of the work of lawyers, judges, notaries, investigators, advocates, prosecutors and other legal professionals practicing various functions.
There were many interesting questions and opinions. As a result, the students received answers to all their questions.
The chief legal advisor of the leading «AM» Law Firm also presented the company's structure, principles, proposed services and other information to help students to make an idea on the legal service provider.
The meeting took place in a warm atmosphere, and our legal advisor once again had the opportunity to transfer new knowledge to the younger generation and help students orientate in the issue of choosing their profession.