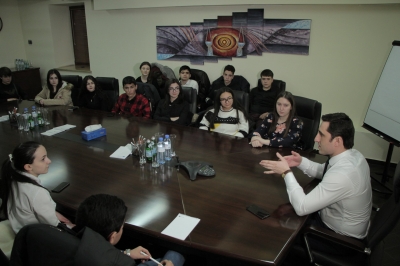 8 February, 2018
Advocate professionalised in criminal cases and partner at "AM" Law Firm Levon Sahakyan presented the students various theoretical and practical issues, which were interesting to them as the particularities of criminal elements, the circumstances that mitigate and strengthen the criminal liability.
The students were mostly interested in several institutes as the circumstances excluding criminal liability, the necessary defence and extreme necessity on which an interactive discussion has been held: various practical examples have been brought, and the theoretical understanding of those issues helped the students to have more figurative perception of the practical issues which were interesting to them.
Within the meeting famous and experienced lawyer Levon Sahakyan has also presented the working schedule and style of the criminal advocates of "AM" Law Firm.
At the end of the meeting the students expressed their gratitude for gaining new knowledge and were interested in the possibility of passing an educational practice in "AM" Law Firm.