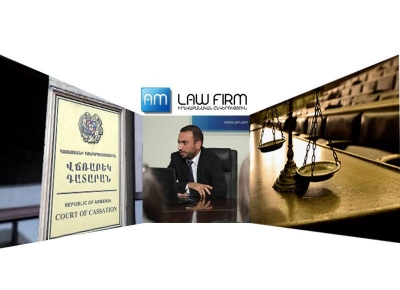 14 June, 2018
A foreign investor's case had been closed: a new judicial act from the Cassation Court is being expected due to the efforts made by AM
In 2016, AM partner and advocate David Hunanyan, had filed a criminal offense report to protect the interests of "Hessar" company with foreign equity. Particularly, the company doubted that its employee has embezzled the company's money, making transactions at a higher price compared to the market price, and subsequently distributing their value between himself and the other party of the transactions.
A criminal case had been initiated on the basis of the report, which, however, has been closed after several months of investigation.
Davit Hunanyan, finding the closure of the case unjustified, has presented a number of complaints to the prosecutor, to the first instance and the appellate criminal courts. All have left the investigator's decision unchanged. However, the supreme court of Armenia, finding that there are apparent violations, has accepted Davit Hunanyan's complaint.
As a result of the complaint filed by the AM advocate, the Court of Cassation will adopt a new precedential decision, which will be binding for all other subsequent cases with similar facts.