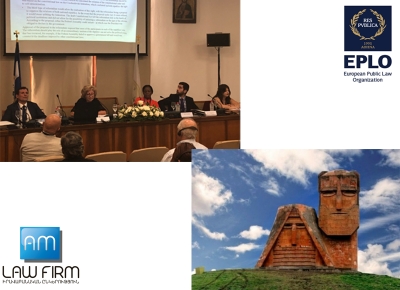 9 October, 2018
The Artsakh issue was presented at the international conference by ''AM'' Law Firm.
The delegation of "AM" Law Firm represented by the shareholders of the company Vanik Margaryan and Narine Sargsyan, took part in the regular meeting of the Board of Directors of the European Public Law Organization (EPLO) and in a conference titled "Referendums and Secessions ", which was attended by more than 50 reputed lawyers from around the world , human rights defenders and academics.
The members of our delegation presented the Artsakh issue, made speeches on the history of referendums in Armenia and Artsakh, and in the context of secessions from states from the standpoint of the right of the people to self-determination on the Karabakh issue and the independence of the Artsakh Republic from the point of view of international law.
During the conference, the Artsakh issue was presented in the same dimension with the self-determination issues of Kosovo, South Sudan, Scotland, and Catalonia, discussing similarities and differences. At the same time, members of ''AM'' delegation presented new legislative provisions on referendums in our country as well as the prospects of "direct democracy" in "new" Armenia.
It should be noted that the European Public Law Organization is a leading international organization for the formation and dissemination of knowledge in the field of public law and for dissemination of European values throughout the world. It includes 14 European countries and 69 internationally recognized universities. Armenia is a member of the European Public Law Organization since 2011, and in 2014, the branch of organization is the first and only in the region.