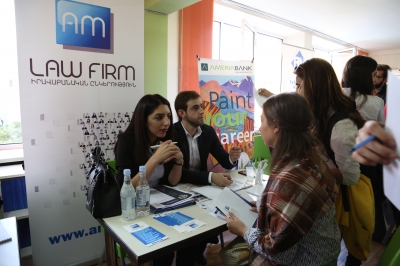 23 October, 2018
Job Fair at French University
Students wanted to work at "AM" law firm
Highly appreciating the effective cooperation with the French University in Armenia, "AM" law firm has also participated in this year's fair organized jointly with the Armenian-French Chamber of Commerce and Industry.
Anna Mikayelyan, Senior Legal Adviser of "AM" Law Firm, former student of French University, presented to the young lawyers the basic directions of the company's activities and the range of services provided, the professional and human qualities required to work in the company. At the job fair, newly graduated and non experienced lawyers were actively interested in the job vacancies and opportunity of internship in "AM" Law Firm.
Our company annually provides opportunities for young lawyers to apply for the job in the company through the similar events.
According to its adopted policy, "AM" Law Firm will continue to assemble competitive staff and create employment opportunities for young professionals.