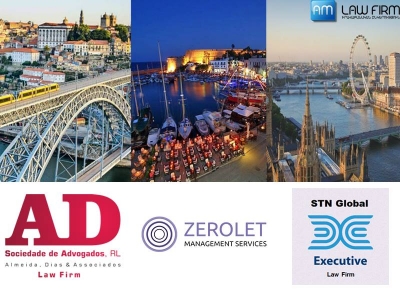 12 November, 2018
To solve your legal problems in the UK, Portugal and Cyprus, you can now apply ''AM'' for assistance.
''AM'' Law Firm constantly expanding its international contacts, has concluded Memorandum of Association with leading companies in the United Kingdom, Portugal and Cyprus.
The company "STN GLOBAL EXECUTIVE MANAGEMENT LTD" was established and operates in the capital of the United Kingdom, London, and provides business management and business consulting services in various fields.
The company offers a wide range of high quality services, including international tax advice, banking and financial services, energy, intellectual property, real estate, immigration and many other services.
The company has 125 lawyers, 17 tax advisers and 350 legal advisors. ''STN GLOBAL EXECUTIVE MANAGEMENT LTD'' has offices in New York, Moscow, Dubai, Abu Dhabi, Kuwait, Munich, Stuttgart, Zurich, Geneva, Nicosia and Athens.
''Almeida, Dias & Associates'', a member of the European Union, has more than ten years of experience in Portugal and has extensive experience in opening bank accounts for natural and legal entities, as well as in acquisition of Portuguese citizenship through the base of the acquisition of property or an investment in Portugal. It should be noted that following a recent legislative amendment, the minimum threshold for the acquisition of Portuguese citizenship has been reduced to 5 years instead of 6 years.
"ZEROLET SERVICES LTD" is one of the leading companies operating in Cyprus and providing legal, tax, accounting and management services. The company has a long and successful experience in corporate customer service.
Thus, thanks to regularly established cooperation of ''AM'' Law Firm with international companies operating in various countries of the world, our clients have the opportunity to solve their legal problems not only in Armenia, but also abroad.